In Brussels the "Italian Case" of unfounded and false lawsuits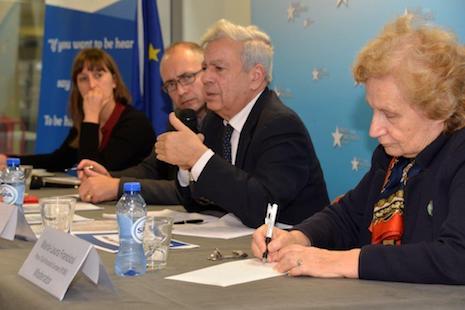 On the 27th October on the occasion of the International Day to End Impunity Ossigeno presented to the Press Club its e-book dossier, "Shut up or I'll sue!" 
Maria Laura Franciosi – Brussels – Each year in Italy over 5000 individuals who want to silence journalists who report unappreciated news achieve their goal by presenting lawsuits for unsubstantiated and false defamation turning the machinery of justice into a intimidatory instrument. It has happened for 70 years and nobody has managed to correct this monstruosity.
At the conference organised in Brussels on the 27th October by Ossigeno per l'Informazione together with the Press Club and AEJ to mark the International Day to End Impunity (IDEI) for crimes against journalists Alberto Spampinato declared that "This is the Italian Case which we want to publicise in Europe" illustrating the latest report of Ossigeno entitled, "Shut up or I'll sue!"
Spampinato explained that with this latest report Ossigeno is continuing its work of documenting which began ten years ago and whose aim is to raise the awareness of the public, the authorities and media personnel, in an objective and factual way, on how serious, numerous and unpunished violent attacks against journalists are in Italy.
To this can be added the no less serious intimidatory and censorship effects caused by defamation legislation.
Despite all this there is still today no adequate measures to protect journalists.
The conference began with a video message to Ossigeno by Dunja Mijatovic, responsible for press freedom at OSCE. She reminded the audience that these unpunished attacks on journalists and to press freedom happen also in democratic Europe and they are unable to be prevented because there is a lack of political will.
Ricardo Gutierrez, secretary-general of the European Federation of Journalists, said that, "press freedom is diminishing throughout Europe" and underlined the necessity of reforming national legislation on defamation. Many journalists, he recalled, have lost their lives and many others the freedom to write also in Europe besides Turkey, Ukraine, Russia and other countries in which the full freedom of expression is not recognised and respected. Many of these journalist were investigating corruption, others wrote  articles regarding the government of their country. "The danger which we see increasing – warned Gutierrez – is that journalists and the media in order to avoid risks and complications, take refuge in self-censorship.  This phenomenon has appeared even in liberal countries such as Finland."
Alberto Spampinato underlined the words of the OSCE representative. "In many countries – he said – there is a lack of political will to adopt the necessary measures to reinforce and protect press freedom, far less investigate attacks and assassinations of journalists and punish those responsible." The situation in which journalists work, above all local and freelance journalists, is difficult also in Italy because the media do not talk about their difficulties and the intimidations they are subjected to. This makes it difficult to focus attention on the need to speak about their protection and to seek solutions. To distract attention there is a tendency to speak always and only about what happens in other countries and to regard those journalists in Italy which are attacked as imprudent,  who did something they shouldn't have.
It is a dramatic situation.  Instead, said Spampinato,  "we must explain to the public that those journalists who receive threats are usually the best journalists". How to overcome this under-valuation and denial of the problem? By recording the facts, documenting the serious violations of the right to inform and be informed, highlighting with evidence that they are serious, frequent and numerous. Only in this way can we obtain the deserved attention because the facts are facts and are undeniable. Ossigeno has done this in Italy illustrating the cases of 3000 journalists threatened or brought before judges with specious lawsuits or intimidated by unfounded judicial measures.  In Italy at least thirty journalists live under police protection because they are threatened because of their work and many others resort to self-censorship. And the real victim of all this is the freedom of expression, the right of citizens to be informed.
Sarah Vantorre, a researcher at the University of Antwerp, presented an extensive research she has conducted on Giuseppe Fava, a Sicilian journalist and writer killed in Catania in 1985 by the Mafia because he openly fought against corruption and immorality. " Freedom, Vantorre said, citing an expression of Fava – is only on the condition that there is the environment in which to exercise it".  There wasn't this environment in the Sicily in which Giuseppe Fava lived, worked and published news which irritated those in power and Mafia business. Thus he was isolated and denigrated and finally killed. His death, however, created a strong solidarity among the young people who worked with him and set an example to the younger generation. Santorre concluded by speaking of the situation of the media in Belgium where several journalists reduce their risk of publishing "unappreciated" information by restricting themselves to re-reporting what other have already said instead of conducting any investigations themselves. She spoke also about the Belgian webzine "Apache" from whom a real estate company demanded a huge amount of money  for damages with the clear effect of discouraging the continuation of their investigative journalism which was leading to embarrassing revelations.
MLF

I contenuti di questo sito, tranne ove espressamente indicato, sono distribuiti con Licenza
Creative Commons Attribuzione 3.0