Ossigeno-SEEMO: Governments must establish agencies to monitor threats to journalists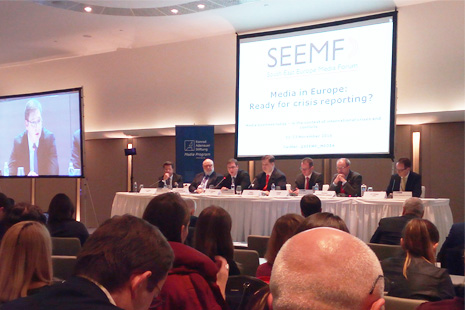 With a joint statement issued in Belgrade, the NGOs of Rome and Vienna ask to implement the recent Council of  Europe  Recommendation and the UN Resolutions
This is the text of the joint statement of "Oxygen for Information" and SEEMO Vienna on the protection of threatened journalists and  the duty of government authorities to keep this phenomenon under observation  and to act promptly, as requested by both the Council of  Europe and the United Nations. The Oxygen-SEEMO joint statement was published in Belgrade during the Tenth Annual Conference of the South East European Media Organisation
Belgrade, 22 Nov. 2016 – Even away from war zones and from areas of conflict, in many countries there are many serious attacks against journalists and other media workers, made in order to prevent the collection and circulation of information of public interest and to hinder the airing  of legitimate opinions.
As documented by UNESCO, most of these attacks go unpunished and that impunity encourages further violence and produces a chilling effect on freedom of information. Year after year, threats, retaliation and abuse have become increasingly numerous and have spread even in democratic  European countries, as evidenced by the amply documented Italian case.
These acts of violence and these abuses, if they are not tackled, will be regressive for  our civilization and will impose, as is already happening, a new form of censorship. This phenomenon, which undermines democracy and reduces the participation of citizens, is largely beyond  the field of observation and intervention of the institutions. This is unacceptable. Governments have a duty to intervene with active, concrete, urgent measures.
The NGOs Ossigeno per l' Informazione and South East European Media Organisation (SEEMO), together, invite national authorities to create in each country independent public agencies autonomous from power, able to operate in conjunction with NGOs and with appropriate monitoring tools, with the task of observing and documenting attacks on freedom of information and to take prompt action to protect and assist victims of these attacks. This is  in order to give precedence to the full respect of the right of expression, speech and press freedom, to determine promptly what is happening and to enable the appropriate remedies to be identified.
Ossigeno and SEEMO are alarmed to see that so far no concrete steps have been taken in this direction despite the highest international organizations having called for some time on governments to do so.
Ossigeno per l'Informazione and SEEMO recall that the creation of these observation centres and an emergency response was solicited last April 13th , 2016 by the Committee of Ministers of the Council of Europe, with a recommendation document addressed to the Governments of the 47 member countries.
Ossigeno and SEEMO also point out that similar requests have been addressed, most recently on 19th  September 2016, by the UN Human Rights Council to the national governments with Resolution A / HRC / 27 / L.7 on the safety of journalists, approved in Geneva with the support of more than 90 states and that the UN has approved other similar resolutions in the past four years.
It is not enough to issue warnings and sign documents condemning attacks on journalists. Action must be taken to protect the right to inform and be informed. We need to make citizens and authorities aware of the situation. And it is necessary to do so speaking the language of the facts, that is, keeping under observation what is happening and making it public, as Ossigeno does in Italy with a pilot project which precedes the creation of these public agencies.
Ossigeno's  project, in ten years, has identified more than three thousand journalists affected by these attacks and by serious abuses of laws and procedures.
ASP

I contenuti di questo sito, tranne ove espressamente indicato, sono distribuiti con Licenza
Creative Commons Attribuzione 3.0