Defamation. The Fnsi: improve and approve the "No prison" bill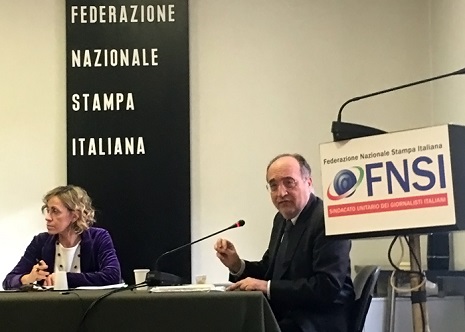 The trade union of journalists deems necessary to add a specific norm for preventing the instrumental and intimidation use of lawsuits
The National Italian Press Federation called on the government and Parliament to proceed, in the manner and form they deem appropriate, to the approval of the bill on libel before Parliament proposing the repeal of the prison sentence for this offense. The FNSI calls, furthermore, for a specific rule of law that can discourage use and abuse lawsuits also for intrumental reasons, faced with the fact that the right to file such complaints has been distorted and is now a very mich used tool of preemptive intimidation against reporters investigating the mafia, criminality and corruption.
It was announced by the secretary general of the FNSI, Raffaele Lorusso, and the president Giuseppe Giulietti, during the workshop entitled "An Act to stop reckless complaints", organized by the association Article 21 on December 14, 2016, in Rome, at the offices of the journalists' union, in the Walter Tobagi hall.
In a note published on the FNSI website (read), Lorusso and Giulietti state that "in this regard it is to be welcomed the announcement of the President of the Senate Judiciary Committee, Nico D'Ascola, and re-launched by the leader of the Democratic Party of the same Commission, Giuseppe Lumia, to put back on the agenda said measure which is now at its fourth reading and languishing still for months in the Senate."
During the same seminar, the FNSI has also announced plans to advance the request for the establishment of a civil party and to be present in court at the side of the journalist Federica Angeli, as it did in the case of the trial which is taking place in Ragusa against the alleged attackers of journalist Paolo Borrometi. The Italian journalists' union also announced that it will cooperate with the working group set up by Professor Marina Castellaneta, composed of jurists and lawyers, which has given availability for the legal defense, first, of the Turkish journalists persecuted and all those reporters in need of protection at the European Court of human rights and national courts. The secretary Lorusso will bring this initiative to the attention of the executive of the International Federation of Journalists at the next meeting of the board, to propose the establishment of a European portal in support of journalists subjected to threats or specious lawsuits.
ASP

I contenuti di questo sito, tranne ove espressamente indicato, sono distribuiti con Licenza
Creative Commons Attribuzione 3.0