Ossigeno. 412 journalists threatened in italy in 2016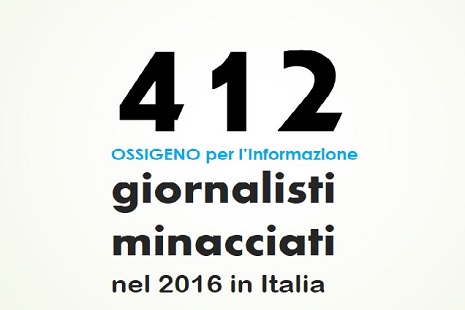 This is the end-of-year balance of the Observatory. Although in order to understand the full dimension of the phenomenon, this number needs to be multiplied by 20 to be closer to reality
There have been 412 Italian journalists and bloggers that during 2016 faced acts of intimidation, threats and serious abuses in retaliation for their work, and to whom the observatory "Ossigeno per l'Informazione" has expressed solidarity by disclosing their names, and describing, at the same time, the circumstances of the episode and the affinities to similar past cases. This year, 15.53% have been physically assaulted, 32.77% have been warned, 37.62% had to endure spurious lawsuits and other instrumental legal actions, 4.61% suffered damages, while 9.47% had to undergo impediments to the exercise of the rights listed in 'Article 21 of the Constitution and for which the codes provide for neither the prosecution nor for sanctions.
Compared to the 528 threatened names listed in 2015, this Ossigeno balance contains 116 fewer names, but this does not mean that the situation has improved. The annual numbers reveal only those cases that Ossigeno was able to verify and to make known: it therefore expresses the Observatory's productivity in the face of the rampant flood of incidents of which it is made aware. Also it must be taken into account that in 2015 Ossigeno had added to the list 97 names due to a single episode: the lawsuit-citation by the Criminal Chamber of Rome against the reporters on the "Mafia Capital" trial.
"The number of journalists who in 2016 faced intimidation – Alberto Spampinato, director of Ossigeno, said – is quite higher than 412. So far we have said: at least ten times more. But now we need to increase this multiplier. We need to at least double it. And this consideration arises folloeing the Ministry of Justice's disclosure, through our Observatory, of the number of lawsuits for libel that each year are rejected by the judges in the preliminary phase: there have been 5125 out of 5904. Certainly among these complainsts, there are some that were presented in good faith. But all the others? These are acts of intimidation through legal means, gags allowed by an unjust law. Equally threatening are the 155 prison sentences issued each year by the Italian courts. The names of these defendants against spurious charges and disproportionate sentences are not included in Ossigeno's list. Who wants to say how things are, should indeed count them in".
ASP DB

I contenuti di questo sito, tranne ove espressamente indicato, sono distribuiti con Licenza
Creative Commons Attribuzione 3.0
/