Football. "Bastards". Banner and six thousand signatures against journalist Pistocchi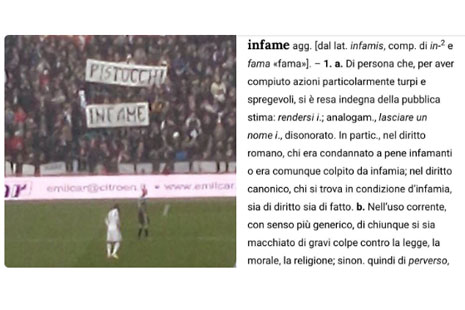 Banner hoisted by Juventus fans during the Sassuolo-Juventus match following a Tweet by the reporter commenting on a picture by Buffon. Petition to fire him
Sunday, January 29, 2017 – he is reporting for ilnapolionline.com (read) – during the Sassuolo-Juventus game, it appeared in the stands a large banner reading "Pistocchi bastard", hoisted by Juventus fans against the journalist Maurizio Pistocchi, Mediaset's sports reporter.
Shortly before, with a tweet, Pistocchi had circulated on the network a picture of the Juventus goalkeeper Gigi Buffon, embracing referee Paolo Tagliavento. Pistocchi had added this ironic comment: "Maybe they are talking about Muntari's goal". The reference to the goal of the Ghanaian player cancelled during the Milan-Juve match of 2012 triggered the reaction of Juventus fans, who already had issues with the reporter.
Some days before, on January 24, 2017, a group of fans had in fact launched a petition addressed to Mediaset, with a request to fire Pistocchi, and to the Order of Journalists with a request to removing him from the Register of Journalists. Within days, the petition has gathered more than six thousand signatures. The episode is recounted by the Corriere dello Sport (read).
The reporter is determined not to be influenced by the pressure of the hooligans. After the banner, he "posted" a Tweet with a page of the Italian dictionary explaining the meaning of the word "bastard" and added the following comment: "In Sassuolo some people talk about me without knowing the meaning of words. I'll remind them, so they understand who it suits. More than this".
Ossigeno expresses solidarity with Maurizio Pistocchi, publicly insulted and held up as an enemy to be hit by the Juventus fans. "It is legitimate to criticize journalists, to disagree with their opinions, to ask the newspapers to replicate and also represent other points of view, to report to the Order of Journalists of behaviour deemed unfair, but only if one behaves in due form. Instead it is unlawful, since it threatening and intimidating, to argue with anyone by offending him and exhibiting strength in numbers", Alberto Spampinato, director of Ossigeno, commented.
DB

I contenuti di questo sito, tranne ove espressamente indicato, sono distribuiti con Licenza
Creative Commons Attribuzione 3.0