Journalist investigated for book on the mafia. She hasn't disclosed her source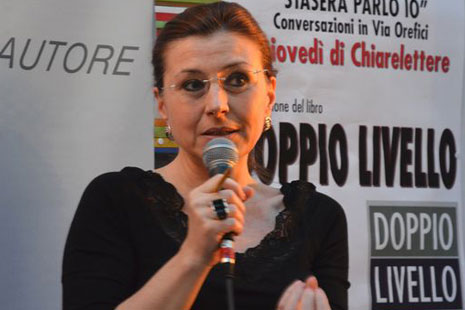 Stefania Limiti is accused of producing false statements to the prosecutor. Ossigeno comments: the knot of professional secrecy set contradictorily is being put forward once again
On February 6, 2017, the journalist Stefania Limiti received a notice of closure of the preliminary investigation by prosecutors in Rome in which she is questioned for the offense of misrepresentation of declarations by the prosecutor of Caltanissetta. The journalist had refused to disclose to magistrates, in May 2015, during an interrogation, the identity of a person interviewed by her and referred to as "Gladiator," a source in the investigative book on the massacre of Capaci entitled Doppio Livello (Double Level), published in 2013 by the publisher Chiarelettere. The author of the book was questioned by magistrates in Catania. The notice received is a prelude to the indictment.
Ossigeno had already covered in 2013 an episode tied to Ms Limiti's book when the anti-mafia prosecutor of Caltanissetta, Nicola Gozzo, had contested the content (read). The volume is the result of an original journalistic investigation on the events and the background of the 1992-1993 biennium of mafia massacres. The investigation goes beyond the procedural findings.
"Journalists – Stefania Limiti wrote on her Facebook profile – conduct their investigations with no other instruments except the protection of their sources: as such it is important to provide for the possibility that they can do it without anyone breaking the confidentiality agreement. I felt compelled to respect the word given and what is I believe ethical behaviour. We will see that will happen."
OSSIGENO'S COMMENT – The judicial inquiry against Stefania Limiti, a journalist who deserves respect and solidarity from Ossigeno per l'Informazione – the director of Ossigeno, Alberto Spampinato, commented – brings to the fore an unresolved issue of the Italian legislation on freedom of information: the know of article 200 of the Criminal Procedure Code (read the text). This article regulates the professional confidentiality of journalists contradictorily, in practice subordinating to the investigative needs of the judge the power to maintain the confidentiality of fiduciary sources. Indeed, "if the news are essential for proving the reality of a crime" the judge can "order" to give up those prerogatives. This exemption is not provided for other categories to which professional secrecy is recognized (doctors, lawyers, priests). To restrict the right to maintain the confidentiality of fiduciary sources is equal to limiting the liberty to gather and disseminate information in the public interest. The crux of the professional secrecy for journalists has been repeatedly highlighted by events similar to the one that now sees Stefania Limiti as protagonist. And no solution has ever been found. Not even the proposed law on defamation which is currently before Parliament is really capable of bringing some relief, although, among other things, it advances for an editing of the Code's article to include non-professionals by the secrecy blanket. There are many other problems to be solved so that information can become genuinely free. Until when will we continue to postpone a meeting with these problems?
RDM DB ASP

I contenuti di questo sito, tranne ove espressamente indicato, sono distribuiti con Licenza
Creative Commons Attribuzione 3.0
/