Naples. Police protection tackles reporter. Crocetta: it's not true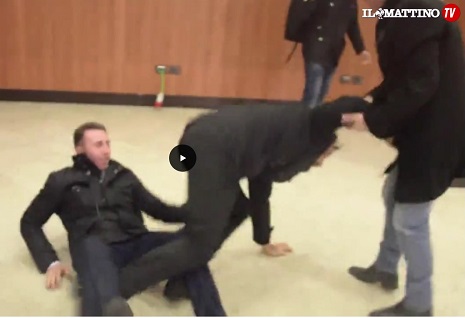 Alessandro Migliaccio and Dino Giarrusso (Le Iene) attempted to approach the President of the Sicily Region. ODG and Campania union protest
During the conference "Church and work, what future for the youth of the South?", which was held in Naples on February 9, 2017, two envoys of the television show of the Italia 1channel Le Iene – Dino Giarrusso and the journalist Alessandro Migliaccio – were forcefully blocked by some bodyguards of the President of the Sicilian Region, Rosario Crocetta, as they were trying to approach him in a hallway, equipped with microphone and camera.
The incident occurred in front of numerous journalists and was recorded by the cameras. The video was posted on the website of the newspaper Il Mattino (watch). The unitary Syndicate of Journalists of Campania and the Regional Order of Naples have defended the envoys of Le Iene calling the affair an "unacceptable incident that violates the freedom of the press."
The two reporter protested against the use of force to prevent questions the politician did not like, and have criticized the same Crocetta. He declared to the Ansa news agency that he had never ordered his bodyguards to tackle the journalists. The officers, he said, dutifully intervened to block what seemed like an attack on my person. "I'm really stunned by the truth can be capsized" he commented.
Alessandro Migliaccio told Ossigeno: "They took the microphone from Dino Giarrusso and they even tried to take my camera to break it. The footage proves it. The microphone was later returned to us."
Rosario Crocetta said that "the video published on Il Mattino shows that I have not met face to face this reporter, I have not spoken with the police (as it is being told for defamation) to tell them to remove him. It is not true. The bodyguards saw a man swooping from behind and one of the policemen took a strong blow to the head, apparently a microphone hit. The police intervened believing it was an assault and I know that two of them went to the hospital for tests following the blows received. So, please, let no one play the victim. Among other things this morning I met another journalist from Le Iene and I fixed a meeting with him."
COA ASP

I contenuti di questo sito, tranne ove espressamente indicato, sono distribuiti con Licenza
Creative Commons Attribuzione 3.0