8th of march. Ossigeno counts 103 women journalists threatened in 2016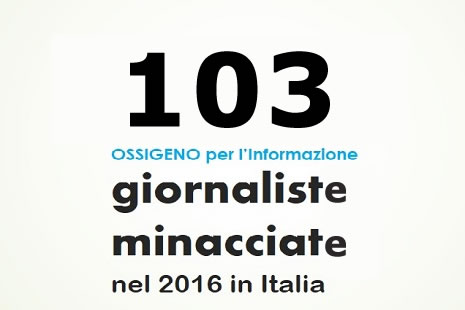 But that figure needs to be multiplied by twenty. Many threats and insults have leveraged on sexist insults and gender bias
In 2016 Ossigeno per l'Informazione, the Observatory which records violations of press freedom against media professionals, has inserted into the counter of threats the names of 103 women journalists, accounting for 25% of the total that reached number 412. There have been 18 women journalists threatened from 1 January to 8 March 2017, day on which we celebrate the international holiday dedicated to women. The figures confirm that, unfortunately, in the last year the situation has not improved.
In the world of journalism, the woman remains a double target: she is hit as a professional and as a woman. According to observatory data, the most frequently used types of intimidation for targeting the work of women chroniclers are the lawsuits and sexist insults.
Through the widespread use of new media and social networks, the sexist insult has gained the primacy between the various forms of hate speech on the internet. Acts of intimidation and the insults to women journalists are more frequent and widespread in those areas of information in which a prevalence of the male gender persists, in particular in sports, in politics and organized crime. The latest figures confirm the worrying trend of last year. The situation does not report improvements.
The balance sheet drawn by Ossigeno is based on the continuous observation and therefore indicates the trend reliably. It does not, however, express the real dimension of the phenomenon as the Observatory is able to describe only the tip of the iceberg. The submerged part of the phenomenon, however, can be estimated with a good margin of confidence, multiplying the data by a factor of 20. Until 2016, Ossigeno asked to multiply by ten. Then, in October 2016, data on the number of proceedings for libel, published in the dossier "Shut up or I'll sue you" (read) have shown that the estimate was far too cautious.
RDM

I contenuti di questo sito, tranne ove espressamente indicato, sono distribuiti con Licenza
Creative Commons Attribuzione 3.0