Fake news to fake laws, Gambaro bill proposes bad solutions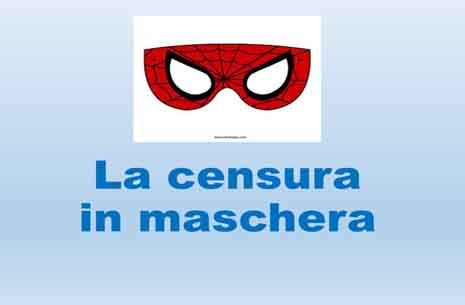 This article by Vincenzo Vita was published on February 22, 2017 by the newspaper Il Manifesto with the title "The bill of law against fake news must be stopped"
From fake news to fake laws. These are laws peppered with bad promises and charged with emergency emotions. A case which is making history is the proposal (Senate Act 2688, filed on February 7) signed by various MPs from across the board, under the signature of the first exponent of the ALA group, Adele Gambaro: "Provisions to prevent the manipulation of online information, ensure transparency on the web and encourage media literacy."
It is a text that has been swinging, unfortunately, between redundancy and the risk of favoring censorship. Indeed, it seems to overlap with other forms of crime – defamation, spreading false and tendentious news – already widely specified in the codes but here improperly dilated. The excess of zeal turns, beyond the intentions, into an actual gag. What does "to arouse public alarm" really mean? Or "to mislead sectors of public opinion"? A warning to the heterogeneity of ends. In order to counter racist campaigns, bullying, support of fascism or similar transgressions, current legislation is quite sufficient. It should be applied, of course.
What this does, though, is to allow to resurface the age-old issue concerning the vigilance authorities, which hold the responsibility for the situation. The cries that Manzoni himself quoted do not hit, as is well known, the real target, crime, while they constitute a kind of preventive intervention against the "normal" users and surfers.
The mess reaches its apex when it comes to the attempt to regulate on blogs and websites in terms of editorial responsibility.
In order not to equate the network to newspapers, the registration to a Court is replaced by a simple notification (always to the Court) via certified mail (PEC). A contribution to the chaos, not to transparency.
The question is a delicate one, because what is happening in the digital world is not extraneous to the rule of law. And the path to take cannot be a pale copy of the structures and consolidated rituals that we've seen in the past, but rather the signing of a binding memorandum of understanding with over the top providers like Facebook. The kings of the algorithms must establish a specific "Statute of the Publishing Enterprise", indicating clearly the areas of expertise and the guarantors for each country in the respect of national laws. Heavy fines to the owners, to be achieved through taxation and advertising. In short, the digital age is a new world, which evokes new and creative approaches and cultures. Otherwise, the mere "prohibition" only makes matters worse. The text for a continuing and professional education in schools is a good idea.
Indeed, it is in the process of building a climate of opinion that is mature and appropriate the recipe on which to work. Digital consciousness is a crucial part of democratic citizenship and it is the only way with which it is possible to limit the tragic phenomenon of "fake news", or of the uncivilized attitudes and which are symbolically violent.
The parliamentary journey of the bill has not yet started. An appeal is addressed to the proposing senators.
Let's stop and rethink the matter adequately, collecting the almost unanimous critical chorus that has surged in the past days.
Evgeny Morozov wrote on Internazionale that "this means building a world where Facebook and Google do not have all this influence". And yes, the manipulation never dies. Just like hegemony.
Vincenzo Vita

I contenuti di questo sito, tranne ove espressamente indicato, sono distribuiti con Licenza
Creative Commons Attribuzione 3.0
/