Italy and Spain. Journalists under fire. Conference in Madrid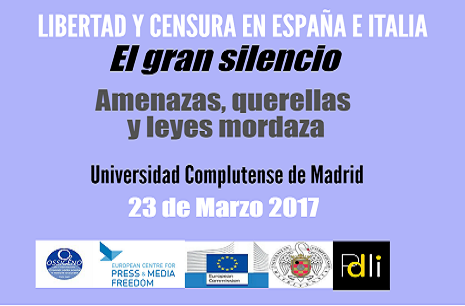 It was held on March 23 at the Universitad Complutense following an initiative by Ossigeno and Plataforma por la Defensa de la Libertard de Informacion
From what does freedom of the press in Italy and Spain suffer? What makes possible to conduct some form of censorship in these countries where democracy exists? What are the effects of restrictive laws, threats and abuses on the world of information? How do we break the silence on the most serious violations of the right to information? How do we compare the situation in the various countries in a credible and objective way? These are the main issues of the international conference "Libertad de expresión. ¿Qué pasa en España, Italia, en el mundo?" to be held on March 23, 2017, in the form of a seminar at the Universitad Complutense of Madrid, with the participation of students, and following an initiative by Ossigeno per l'Informazione, the European Centre for Press and Media Freedom of Leipzig (ECPMF), and Plataforma por la Defensa de la Libertad de Informacion (PDLI).
The meeting will be attended by experts from Italy, Spain, Germany, Austria, information law professors of the UCM, Scott Griffen (IPI Vienna), Martin Hoffmann (ECPMF Leipzig), Mario de Castro (University Rey Juan Carlos), Joan Barata (former political advisor of the Representative on freedom of the media OSCE) and several non-governmental associations in Madrid, including, on top of the PDLI, No Somos Delito, Jueces para la Democracia, ICAM (Ilustre Colegio de Abogados de Madrid).
The comparison with the Italian situation, characterized by thousands of threats, acts of intimidation, retaliation and baseless lawsuits against journalists and bloggers, and the Spanish situation, characterized by similar violations and by the thousands of fines imposed as a result of the recent Ley Mordaza, will be integrated with a look at the situation in Europe and Germany. The conference takes place within the framework of initiatives by Ossigeno per l'Informazione that aim to create, together with the European Centre for Press and Media Freedom of Leipzig, supported by the European Commission, to create a permanent observation point and a network of non-governmental organizations working to document the most serious violations with a common objective method. The conference takes place following the similar public initiative that took place in Madrid on 14 April 2016, at the University Rey Juan Carlos (watch) and the meeting that was held on April 12, 2016, in Berlin.
ASP

I contenuti di questo sito, tranne ove espressamente indicato, sono distribuiti con Licenza
Creative Commons Attribuzione 3.0