Germany. F.A.Z. reports a judiciary case for news about Mafia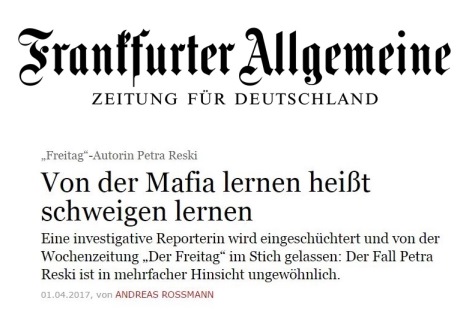 by Andreas Rossmann – This article was published from the "Frankfurter Allgemeine Zeitung" last April 1, 2017
Learning from the Mafia means learning to keep silence (Von der Mafia lernen heißt schweigen lernen) –  An investigative journalist is bullied and abandoned by "Der Freitag," a German weekly journal. The "case"of Petra Reski
The Italian journalist Alberto Spampinato once said that "everyone who writes about the Mafia does it at their own risk." He is from Sicily and he knows what he is talking about: The topic has been an obsession for him ever since 1972, when his then 25-year-old brother Giovanni, a correspondent of Palermo's "L'Ora" was murdered by the Cosa Nostra. His book about his brother, a first-person account, was published in 2009. In 2008, when he was working for the news agency Ansa in Rome, he founded the "Ossigeno per l'informazione" project ("Oxygen for information"), a kind of Human Rights Watch for journalists. Ever since then "Ossigeno" has been able to document a sharp rise in the number of incidents, not only in southern Italy: In 2009 therewere 91 incidents, in 2016 more than four hundred incidents.
"At your own risk" includes risking death. In the past thirty years thirteen journalists were killed by the Mafia inItaly. And that means for their own account: Journalists are threatened with slashed tires and incendiary attacks or legal actions for damages and libel. And due to the fact that the mills of justice grind slowly, they are strenuous and demoralizing. Some, like Roberto Saviano, have police protection, and not only in Naples, Caserta or Reggio Calabria. But what Spampinato said also includes the danger to people's personal integrity: hostility and attempts at intimidation, the goals of which are to silence journalists. Petra Reski, a freelance author specialized in writing about the Mafia can attest to that. This article is about what happened to her. One legal way to silence people is the right of personality that Italian courts deem to be less important than the interest of the public. This empowers the media to do their job as custodians and safe keepers. This does not tend to be the case in Germany because people prefer to act as if the mafia were almost non-existent. And when the mafia does become "existent," like the time in 2007 in Duisburg, Germany when six people were assassinated during a 'Ndrangheta vendetta or the time in 2015 when eight members of the Calabrese organization were arrested near Lake Constance, the tenor of the police and press reports indicated that these matters were domestic Italian matters.
Yet Germany's "Bundeskriminalamt" [Federal Criminal Police Office] assumes that there are more than five hundred members of the mafia living in Germany, and has published findings on business deals worth billions; deals that include drugs and weapons transactions and money laundering carried out by cover up companies. However, the legal instrumentarium is no longer sharp, and law enforcement is no longer effective. Unlike Italy, being a member of the mafia in itself is not a criminal offence. While authorities in Germany must prove that the millions that a suspected Mafioso has invested in real estate were acquired by illegal means, in Italy it is the other way around: If a suspect cannot prove how he acquired the money, the money is seized. As early as 2013 the Federal German Government announced that it was going to change the burden of proof.
But as long as this reform is not enforced, things will be easy for the mafia and difficult for the German police.
Compared to the damages that arise for the economy and civil society, the mafia's business dealings go unnoticed. Research is complicated and difficult and even though "Verdachtsberichterstattung" (press reporting on pending criminal cases/trials) in Germany enjoys legal privilege, somepress chambers expect facts of evidence that go beyond specific grounds for suspicion.
Petra Reski, born in Unna, Germany in 1958, has been writing about the mafia foryears and with great expertise. She is bilingual, she has good political connections, and she's been following the developments and ties and links from Venice in both Germany and Italy for more than twenty years. In articles and books, including "Mafia –Von Paten, Pizzerien und falschen Priestern " (2008) [The Mafia – Godfathers, Pizza Parlous and False Priests].
She investigated power structures and intrigues, pointed out dangers and exposed herself to danger. Her writing combines opinions and analyses with dauntlessness and courage. As a consequence she's felt the heat: Actions for injunctions and libel action suits, pressure and trials.
"Everyone who writes about the mafia does so at their own risk." This sentence was also quoted in article by Petra Reski on March 17, 2017. The title of the article was "The Mob likes things German," which appeared in "Der Freitag," a weekly German newspaper. On one page she describes how quickly the mafia was able to establish itself in eastern Germany without further ado, including descriptions of how difficult it was to report on their activities, offering her own experiences as proof. One year later the phrase has caught up with her in a very disturbing way: The successful legal suit of an Italian businessman, who thinks that his right to personality has been infringed against brought against her at the district court in Leipzig, which is mentioned in the article itself, has had a huge impact on her, placing a financial burden on her and violating her honor and existence. And that was probably the plaintiff's primary objective, as his name had already been mentioned in other newspaper reports on the verdict and he had initially applied for the preliminary injunction against the author. It was not until later that "Der Freitag" received a warning letter.
This is an unusual case in many respects. Among other things Petra Reski's article was about the samedistrict court in Leipzig had ruled in favor of the same business man, who had initiated a lawsuit against "Province of the mafia bosses – the mafia in Central Germany," a TV documentary by the German television station MDR that had been broadcast on November 4, 2015, stating that it was obvious that he was Michele, the businessman mentioned in the documentary, that according to the Italian authorities this person was a member of the mafia and involved in the expansion of the 'Ndrangheta from Erfurt, Germany as a financial administrator.
This was the public verdict Petra Reski made reference to. Initially the court had informed the plaintiff that the request for a waiver of preliminary injunction was "at any rate inadmissible in this instance." And that moreover it was questionable "whether the principles of the press reporting on pending criminal cases/trials  were applicable to the case on hand," which the plaintiff had considered to be violated. However, then the court, which is generally considered to be particularly plaintiff-friendly,  admitted the application, contrary to its first finding and granted legal action: On February 24, 2017, Petra was sentenced to injunctive relief of distribution and the sentence was declared for provisional enforcement against bail of € 5000.
The Italian, who operates a restaurant and an ice-cream parlor in Erfurt had  applied for the injunction on June 28, 2016, more than three months after the publication. Petra Reski, who lives in Venice, Italy, did not receive it until November 2016. In September 2016 the plaintiff had contacted "der Freitag". It is general practice that a newspaper, after having decided to print an article, will back an author, and in the case of a legal dispute will consult with the author and  defend  them. An interview that I conducted  with   legal  specialists and media attorneys states that none of them had ever heard of a case that had not been treated that way. Even when the newspaper retroactively comes to a different legal evaluation than the author the risk is generally taken on by the newspaper. "Freitag," didn't even try to assist its author and instead deleted the article from its internet page without even discussing it with her.
Petra Reski told this paper that she was informed by the editor responsible, with whom she had worked well in the past "that the legal fee was quite a burden for a publisher as small as ours,"
She feels let down by "Freitag". "It doesn't seem to have occurred   to anyone who works at "Freitag" that the court and lawyer's fees are perhaps an even greater burden for someone like me who made 321 € writing the article.
When he was requested to comment, Jakob Augstein, the publisher of"Freitag" told this newspaper: "As a newspaper we are rely on our authors working correctly. When we print statements unknowing that turn out to be untenable we must be able to guarantee that we won't repeat these statements.
That is standard practice in Germany's media landscape, particularly in those times that are characterized by fake news and "Lügenpresse." When asked about the accusation of the lack of legal support, he said: "The editorial department isn't the equivalent of legal protection insurance for inadequate research."
Thus Augstein isn't only assuming the decision from Leipzig but also discrediting a journalist who had been held in high esteem by the newspaper, letting us know what freelance work at"Freitag" can entail and cost. For Petra Reski this experience is probably one more reason to continue writing crime novels about the Mafia instead of investigative articles and non-fiction books. This August her third novel "Bei aller Liebe" [Despite Love] about Serena Vitale, the Mafia investigator will be published by Germany's Hoffmann and Campe.
There have been reasons for her to switch genres for quite some time: the first one being what happened in Erfurt in 2008: During her book tour for "Mafia-Godfathers, Pizza Parlors and False Priests" an elegant gentleman rose from his seat and started to defend the people who had brought legal actionagainst her book, congratulating her ironically for her courage. "The application for preliminary action for injunction contained a reference to which floor my apartment is situated on in Venice," she says, "even though I never refer to it. Only someone who has stood in front of my door would knowthat." Petra Reski knows what they are trying to tell her.
ANDREAS ROSSMANN/ASP

I contenuti di questo sito, tranne ove espressamente indicato, sono distribuiti con Licenza
Creative Commons Attribuzione 3.0
/