Anguillara (Rome). Memory panel to the city library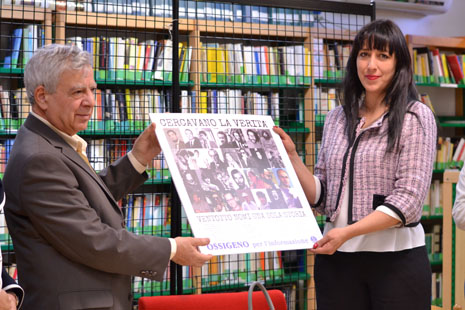 It remembers the journalists killed because of their work. Delivered to the Mayor Sabrina Anselmo and to the Counselor Viviana Normando
The Memory Panel by Ossigeno per l'Informazione "They were looking for the truth. Twenty-eight names a single history", which recalls the twenty-eight Italian journalists who died because of their work, was posted in the "Angela Zucconi" Library and in the Municipal Palace of Anguillara Sabazia, the municipality in the province of Rome, located by the lake of Bracciano. The delivery took place on April 20, 2017, during a public gathering involving some classes of the high schools "Ignazio Vian" and "Luca Paciolo" from Bracciano and Anguillara Sabazia. The Panel was given to the mayor of the town, Sabrina Anselmo and the Culture Counselor, Viviana Normando, by the director of Ossigeno, Alberto Spampinato.
"These journalists, with their sacrifice, have allowed the assertion of the right to free expression which we enjoy today, and were animated by the ideal of freedom of the press, an ideal for which Ossigeno has been fighting", the Mayor said, thanking the Observatory for the role it plays in favor of freedom of the press.
Spampinato described to the students the figure of his brother Giovanni, one of the 28 journalists recalled by the Panel, who was killed in Ragusa, Sicily, in 1972. He then talked about the importance of freedom of expression, of speech and of information for all Citizens and not just for adults because, he said, without ever exchanging information we would never be free men and women. The information we receive helps us guide us, just like road signs, but some point us in the wrong direction when someone may want us somewhere else and for their own convenience. We must learn to recognize it and to assert the right of each of us to receive correct and truthful information, learning that the Constitution and international treaties give us this right by developing our critical sense and our awareness. This also applies to information circulating on social networks. Who, while facing blatant lies, proposes to limit freedom of expression is pointing in the wrong direction.
The meeting was attended by journalists Simonetta D'Onofrio and Silvio Rossi.
MF

I contenuti di questo sito, tranne ove espressamente indicato, sono distribuiti con Licenza
Creative Commons Attribuzione 3.0