Palermo. "Enough articles". Anonymous letter to reporter Salvo Palazzolo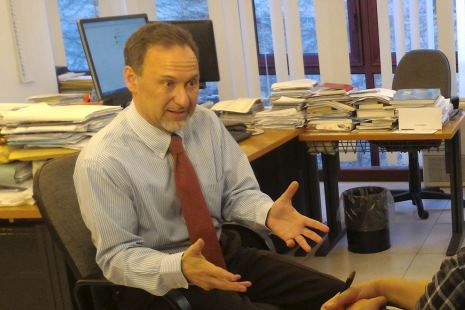 At the heart of the issue, the articles on the 'Panta Rei' trial against 40 defendants from mafia association charges for which the judge Nicola Aiello was also threatened
In Palermo an anonymous letter containing threats to the journalist Salvo Palazzolo, editor of the newspaper la Repubblica, was delivered by post, on July 7, 2017, to the editorial office where he worked. The mafia's hand is made explicit by the request not to deal with some of the events investigated by the court and the explicit mention of Judge Nicola Aiello, who is dealing with the case and who on the day before received a warning on which the investigations were begun: behind the door of his office, on the second floor of the new city court, a cross was drawn. Nicola Aiello is working on the Mafia trial 'Panta Rei' against 40 defendants, and for whom on September 2017 the sentence is expected. Palazzolo, 47 years old, editor of the newspaper, has published several articles on 'Panta Rei'. Over the years, he has suffered other threats due to his work, as Ossigeno has reported.
"It is absurd – Salvo Palazzolo told Ossigeno – that in 2017, despite the extraordinary commitment of the judiciary, there may still be a mafia zone in the center of Palermo. Here there are some very watchful journalists, all involved in telling the many mafia stories. I am happy because there are no isolated journalists and because there is no silence: the people of Borgo Vecchio and Porta Nuova [the neighborhoods that have been at the centre of recent inquiries] want the presence of the institutions."
The journalist received ample solidarity. As soon as he received the envelope, he immediately warned the Carabinieri and on Monday, July 10, he formalized the complaint before the magistrates of Caltanissetta, who summoned him to collect his testimony for the investigation launched after the threats against Aiello.
The address on the envelope of the letter is handwritten, while the text is written by computer, which reads: "Tell that cunt of Salvo Palazzolo to stop with Borgo Vecchio, and tell that other cunt of his friend Nicola Aiello to keep low in September [when the sentence of the Panta Rei trial is scheduled], or we'll push him low."
The envelope has the postmark of July 2. This might suggest that it was sent in response to an article written by the journalist the day before along with his colleague Francesco Patanè, which tells of the break in of three men in the home of the paternal grandmother of the repentant Giuseppe Tantillo in the Borgo Vecchio district of Palermo.
MF

I contenuti di questo sito, tranne ove espressamente indicato, sono distribuiti con Licenza
Creative Commons Attribuzione 3.0
/