Parma. Consortium files lawsuit against animal-rights activists. Web page seized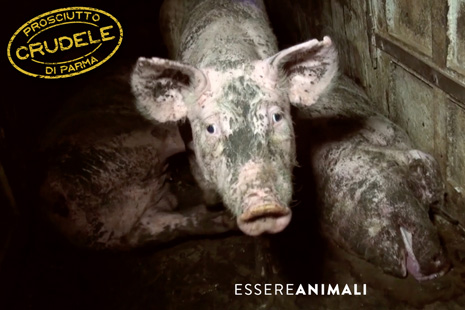 The association "Essere Animali" had published a video about suspected abuses on pigs. It appealed to the Review Tribunal
Following a lawsuit for libel filed by the Parma Ham Consortium against the association Essere Animali, on June 1, 2017, the Court of Bologna ordered the seizure of a video hosted on the web page Prosciutto Crudele ("Cruel Ham"), obscuring in this way an investigation into the alleged abuse of pigs in a breeding farm that supplies the Consortium. The page was created right after the publication of the report. Clicking on the button that should launch the video a black page appears with the writing: "These contents are not available in the domain of this country because of a court injunction".
The video, released on December 20, 2016, was produced by the Animal rights Association. The Judge for the preliminary investigation has also ordered the seizure of the same content on social networks and advertising on Google. He considered that, in the specific case, "it appears to be clear the congruity of the elements represented so as to justify, at least in abstract terms, the accusatory hypothesis, as can be inferred from the lawsuit."
In essence, the judge conducted a preventive seizure, pending the trial for libel, in order to avoid the possible effects of the investigation that would prejudice the reputation of the Consortium.
On February 15, 2017, the chairman of the consortium's board of directors filed a lawsuit against Simone Montuschi, the spokesperson for the association, as well as against the web page administrator, who is also the investigative director of the association. The Consortium challenged the association for damages to its brand that has affected all its consortium members. The Consortium has also challenged the adoption of a logo which recalls the Official Parma Ham logo.
The lawyer of the Essere Animali association has already appealed to the Review Tribunal and called for the revocation of the seizure of the page, appealing to freedom of expression, guaranteed to all citizens by Article 21 of the Republican Constitution and Article 10 of the European Convention for the Protection of Human Rights and Fundamental Freedoms. Prosciuttocrudele.it is not a journalistic headline: if it were, it would not have been possible to prevent the seizure.
The blog shows suffering, malnourishment, abuse, and abandonment of animals, corroborated by figures on the production and distribution of Parma ham.
RDM

I contenuti di questo sito, tranne ove espressamente indicato, sono distribuiti con Licenza
Creative Commons Attribuzione 3.0
/