Rome. Rai troupe surrounded and attacked during outdoors filming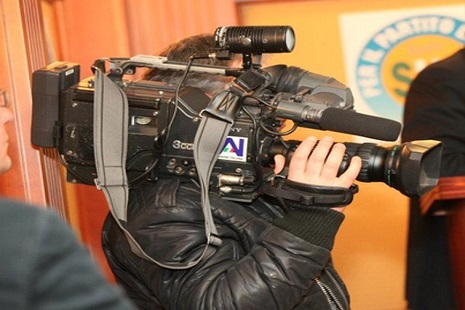 They were shooting some video footage of a group of houses considered to be illegal and inhabited by members of the clan Casamonica, in the storm after the mafia style funeral
A reporter and a cameraman of the RAI news program "Agorà" were attacked in Rome on Sunday, August 23rd, in via del Quadraro, in the Appio area. The reporter Alfonso Giuliano and the cameraman were in the street, in front of a group of houses, from the outside, to shoot some video footage of some illegal buildings inhabited by members of the Casamonica clan, whose chief, Vittorio Casamonica, died of disease and whose Godfather-style funeral has raised an endless controversy and sparked an administrative and judicial investigation.
The two cameramen were surrounded and attacked by two thirty year olds. The journalist was threatened with death, jostled and pushed away. The cameraman was scratched and grabbed and the phone was taken from him with which he was filming the housing. The two attackers extracted the memory card and seized it. The reporter and the cameraman managed to call the police. Shortly after two police patrols arrived on site blocking the attackers and arresting them. The scene was attended by dozens of people.
Alfonso Iuliano has thus reconstructed the attack: "they have seriously threatened me with death several times and said 'If you do not give us the camera we'll beat you to death' or 'You're finished' or 'you're dead'. The threat 'we'll beat you to death' was clearly shouted by a person that was later arrested by the police." Someone lifeted the keys from the car's dashboard.
"Sunday, August 23, 2015, after shooting pictures in front of the villa in the Romanina area where Vittorio Casamonica lived – Alfonso Iuliano added – I moved to via del Quadraro, where I had been notified of a squatter settlement of some memebers of the family. It is a small complex, of 6-7 houses around a square. Together with the cameraman, I entered the area with the car to verify the news. Some people told us to leave because they had nothing to do with the Casamonica. Later however some residents confirmed the circumstances. So we went back, this time on foot. At that point the situation is precipitated. We were surrounded by a dozen people. The climate quickly became very tense. There was a worrying bustle of people. The cameraman was pulled and scratched on the arm, then they took the camera and the video card.
This is the story that the reporter told on Monday, August 24 during the show Agorà: "We were in the Quadraro neighborhood, an area not too far out of Rome. In the morning we were told that in the church of San Giovanni Bosco the Casamonica were there too, in a settlement not too well known. And so our curiosity was to know what it was. There was nothing to indicate a private road. It seems like an area sprung up completely illegally and we do not know if it has been remedied in some way. Some buildings also seemed quite 'fresh'. We could not even explain ourselves. We were immediately covered with offenses. Then began a very confused and aggressive phase that we were able to document in part with a micro-camera. They felt harmed in their privacy, saying that we had even took pictures of naked women. Obviously nonsense, as well as a complete falsehood."
These are some of the phrases recorded by the micro-camera and then transmitted by Agorà: "You have to give me your full name. Give me the camera. Show me your phone." "Delete everything, I won't give you back your keys". "Why? Are you a man?You're not a man. You took pictures of minors. You do not know what awaits you here. You'll pay the consequences. You are journalists, we are Gypsies. So you want to be smarter than us?."
The images are blurry – you see women, men, one in a swimsuit, even a child, in the background some detached houses. A woman approaches the cameraman and says: "I'll take your glasses, what will you do?". Another says: "Take the machine gun, kill us all and you'll be quicker. We are in mourning and they raised all this noise. Now politicians will have to care about it." When the police car arrived, a man asked the Agorà journalist: "Do you want to press charges?". Answer: "You have attacked me." "Who attacked you?". "You told me that if I didn't give you the card you'd kill me" the reporter replied. "Eh! What? Am I gonna kill you with my hands? Until now the Casamonica have never killed anyone."
ASP

I contenuti di questo sito, tranne ove espressamente indicato, sono distribuiti con Licenza
Creative Commons Attribuzione 3.0