Klaus Davi: "Calabria is a goldmine, but I'm the only one exploring it"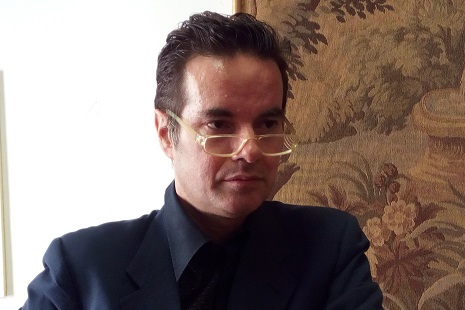 The journalist explains to Ossigeno his investigative work in the lands of the 'ndrangheta, amongst small successes and deadly threats. "The state has failed" and "the public service does not do enough"
"Calabria is a fascinating and intriguing region. It is one of the poorest regions in Italy, but has the "richest" organized crime in the world. This contrast shows a blatant failure of the State. There the State has failed. It is a daily failure, the newspapers do not say it, and not because of the local journalists. They do their job well. Evidently the political and editorial system has no interest in admitting it … ".
Klaus Davi, 52 years old, a renowned Italian journalist and mass media expert, born in Switzerland from Italian parents and raised in Germany, says so in passionate tones to Ossigeno, who interviewed him to talk about the aggressions, warnings, threats he suffered in Calabria, from 2014 to today, since he began to realize and spread a journalist inquiry on television which is in many ways original, moving around the territory to explore and highlight these great contradictions. Mr Davi, by observing things, listens, talks with everyone, giving voice to people tied to the 'ndrine (clans), attending their meetings. This close interaction challenges above all the pretense of the 'ndrangheta to focus the limelights away from its reality. This observation shows unseen aspects, revealing that the scale of clan values, their unshakeable principles, their own family relationships, are a less solid and unshakeable building than it is believed.
"In Calabria politics seems absent. And yet – added Davi – here the State has changed its attitude. For some years it has marked a strong turning point in the judicial machine: in 2008, with the appointment of Giuseppe Pignatone as head of the Procurator's Office of the Republic of Reggio Calabria and then of his successor, Federico Cafiero De Raho and, lastly, putting Nicola Gratteri at the head of the Procurator's Office of Catanzaro. But all this is not enough: the State cannot only be placed as a power capable of arresting the clan chiefs and seizing their goods. It must also build. And in the face of all this, I wonder: what are MPs from Calabria doing? "
Do your inquiries explain it? What contribution do they give?
"I'm not an anti-mafia journalist and I'm a slightly unconventional one at that" he says. He is defined as a communicator who has learned on television how to talk to the vast audience. "A communicator – he says – does not tell what has been said in court proceedings or how a trial is over but talks about these things, frames them and comments so that he can talk to the masses and move emotions as he can not do the work of a classic reporter. I learned the popular language on television, thanks to the teachings of Massimo Giletti."
"I began having an interest in Calabria with this approach since 2015," he adds, "since I discovered that this region, with its passions and contradictions, is for me a real gold mine, where no one tries to dig like I do".
Since then, with his television services aired on the web and on small local broadcasters, Davi tells about Calabria – and the 'ndrangheta – as he sees it, how he can get to know it by moving around the territory and the people who live there. He chooses the interlocutors, his operator turns on the camera, and he makes clear, legitimate questions. However, many in this land are considered unimportant, ineligible, a sign of lack of respect. That's why he was attacked, received insults, acts of intimidation, threats. Episodes on which Prosecutor De Raho is investigating. It is necessary to protect him, the Prosecutor said. The Prefecture offered him a detail that will be next to him whenever he makes a motivated request. Davi thanked him, but as all journalists do who do not notice the imminent danger, he often did not ask for protection of law enforcement because it would have created a barrier between him and the people he wanted to get in touch with.
"I repeat: in my work the telling of the judicial affairs has nothing to do with it, is it merely a side note. The themes I try to cope with, along with my operator and co-author Alberto Micelotta, are different than the classic ones dealt with by the journalist who deals with court records. For example, I am interested in lifestyles, private behaviors, relations between the family members of the mafiosi, their attitude to issues such as pedophilia and homosexuality, the reactions, the matrimonial betrayals, and so on. Most of these things have no criminal record, but they have a strong media impact."
When did your decision to deal with 'ndrangheta arise?
"In 2015, when I interviewed the Calabrian magistrate Giancarlo Giusti, tried three years earlier for being accused of corruption by the 'ndrangheta transplanted in Milan and sentenced to 4 years of imprisonment. I interviewed him and that was the last interview he released. A month later he committed suicide. In those months I had a close correspondence with him. For me his suicide was a shock, he made me think of many things he had spoken to me about and which opened my eyes, as I wrote the very day of his death (read)."
How do you adjust to the threats you receive?
"I'll register them and go ahead. If you think too much about it, you can not do this anymore."
The first time your work as communicator has triggered violent, threatening reactions, have you changed your approach? And did you expect it?
"First of all, I do not consider as threats of the 'ndrangheta the threatening expressions some people resort to on social networks. That style is not that of the 'ndrangheta. Those insults on Facebook come from neighborhoods close to the 'ndrangheta, the so-called "loose dogs": little boys, children and grandchildren of people tied to the 'ndrine."
But didn't you suffer from real aggression?
"Yes, if we are talking about the aggression in Vibo Valentia (read). Yes, that one was an aggression from the 'ndrangheta by two members of the clan. But I must be honest: those two did not want to attack me, my person. They wanted to break my camera. I defended the camera and therefore they hit me. But I was not their goal. They wanted to stop our taking footage. For that incident, two people have been sentenced to trial at the Court of Vibo, but the trial has not yet begun."
What does that episode mean for you?
"It happened in the public square, in front of dozens of people. They gave a signal. They made it clear that my way of working is not welcome. The 'ndrangheta and its members pretend and obtain to be treated by everyone with great respect, not to be observed closely. In the code of the 'ndrangheta, who goes to someone's home and rings the bell without being invited, as I did, that is a lack of respect, it intrudes into an inviolable sphere. My transgression of the rules did bother many, but not the act in itself."
They made you understand that you must also consider certain public exercises to be inviolable…
"Yes, because the 'ndrangheta occupies the entire territory. I, as I said, in Vibo Valentia was attacked in the square, the public place par excellence. They made me understand that they regard as equally inviolable bars, groceries, pharmacies, and other commercial activities used to control the territory in a capillary manner. Of course, there are areas more or less penetrated by mafia interests. Not all of Reggio Calabria is controlled at the highest degree, but for the most part it is …"
You were threatened in a bar. Why? What did you do?
"Nothing, in fact. But in certain bars former convicts enter and exit as they like, they talk to each other, exchange information. I put myself there and looked, listened, intent on reading my papers. In another area nobody would have said anything. In Calabria, however, this is attituted bother people. That's how it is there, so much so that they told me not to go back to that bar again."
On top of aggressions, insults on social network, you have received complaints about defamation that appear rather pretestuous. The mafiosi live outside the law but turn to the law to protect their reputation. What do you think about it?
"Somehow they would like to show that, in fact, who is doing something illegal is you who are trying to tell what's happening. It is also a way to discourage you, to punish you by forcing you to spend money, to weaken you economically, as Ossigeno explains quite well."
How do the general Calabrian people see you? How do they see this strange journalists who goes around annoying people? Did you evere ask youself this question?
"Yes, of course. At first they thought I was crazy. Today, they are coming around. I get letters from people telling me their story. I receive testimonies of strangers to the 'ndrangheta as well as from clan members who express dissent from their leaders, from within their families. These people contact us, they give us information from within their clan. We have already done two or three interviews with these characters. It is a great satisfaction for me. Obviously we are very careful about these things, because the risk of being exploited is around the corner. These testimonies of family members of the 'ndrangheta, who say their name, who speak plainly, who make names and surnames, are very interesting. Obviously, in order not to kill them, in our television services we do not say their name and we do not frame them: we have their words dubbed by others."
What does it mean that these people turn to you?
"That the people are starting to warm up to us. It is an important signal. Who is currently missing is the civil society, the real one. And it is also our fault, of us journalists. "
Why?
"Because we are far from the people. Because most people consider journalists negatively, they consider them like cops, unloyal, unprincipled. They are unjust judgments, I know, but that's the way it is. We must succeed in changing this perception. "
Can civil society do something?
"Civil society in Calabria does not exist. Let's leave aside for a moment those that should oppose the mafia. Let's focus on the deaths for cancer due to the dumping of toxic wastes. Not even before these things there has been a civil society capable of reacting. People die and no one says anything: there is no association that intervenes."
Do you remember an episode that frightened you so much to make you think about quitting?
"No, never! Once, a person, always at the usual bar I go to and where I met clan people, told me: if you knew how deep the sea is, you would not do the things you do. I remember it well."
Does the RAI, the public broadcasting service, do its part well?
"Absolutely not. It is completely absent, it does not play its role, neither from a human point of view, nor as regards its presence nor even at the editorial level. The lack of a shore such as can be the public service makes the work of journalists like me much more dangerous. RAI is doing well to make room for the commemoration of journalists killed because it is fair to remember them and pass on their memory to young people, but it is also necessary to think about the lives of journalists today, those who might die for the same reasons. I believe that the public service could be extremely useful in extending more protection, much more important than the DIGOS (special police units) can. In my opinion, the public service, which is so insensitive to this issue, will have a responsibility if something happens to journalists. Obviously from this argument, the regional offices of RAI, which has always been in the frontlines of the battle to tell of organized crime, has to be excluded."
Do you think that your fellow journalists who report on local news can do something more?
"There are Calabrian reporters who pay a very high price for their work: such as, for example, Michele Albanese. There are other journalists who pay their commitment with their freedom. But there are many others who act quite differently."
RDM

I contenuti di questo sito, tranne ove espressamente indicato, sono distribuiti con Licenza
Creative Commons Attribuzione 3.0