99% of Impunity. Figures, causes and possible remedies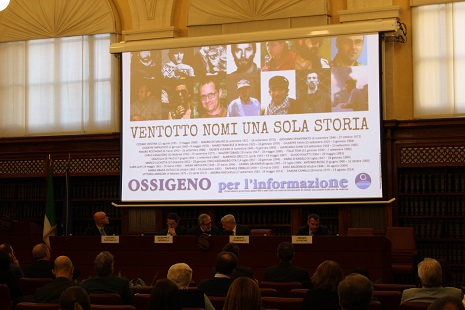 The speech made by Alberto Spampinato at the conference "Threatened Journalists, Attackers Unpunished", Senate House, October 23, 2017
Introduction
Why are we solemnly celebrating for the second consecutive year and in a prestigious institutional setting this United Nations International Day to put an end to Impunity for Crimes against Journalists?
Because it enables us to talk about a public service essential to democratic life, informed journalism and because of the fact that those engaged in this service – journalists, bloggers, editors and citizens, whilst they disseminate news of public interest, are subject to thousands of unjustifiable attacks, in violation of the law and of treaties which enshrine the right to inform and be informed. It is a major problem because this has been happening for many years without the authors of these attacks being identified, prosecuted and punished as they deserve.
Nothing similar happens for any other public service.
The statistics of the attacks against journalists are shocking:
From 2006 to today 930 journalists have been killed in the world (103 in 2016, 42 this year). In nine cases out of ten those responsible have not been punished.
93% of those killed are local journalists.
7% are foreign correspondents (among these are war correspondents).
UNESCO provides this data and adds that the figures for those killed show only the tip of the iceberg. Journalists who are subject because of their activities to serious attacks which go unpunished are many more.
How many, therefore, are threatened? UNESCO has not got figures regarding this. Ossigeno which conducts a detailed monitoring, has a documented figure for Italy.
3406 journalists and bloggers have been attacked in the same period (2006-2017), impunity for these attacks amounts to 99%.
The problem is very topical.
This year Ossigeno has identified in Italy, 321 attacks  and of these 40% targeted journalists who work in and around Rome.
The phenomenon, therefore, does not relate only to peripheral areas, war zones but also central areas such as the Italian capital, the centre of the country, the seat of political and economic power.
Unpunished attacks are a major problem. They have as a consequence, the covering-up of important information of public interest. However they affect not only workers in the sector but all citizens deprived of the right to be informed.
And yet it is little talked about and little is done to resolve the problem. That is a mistake.
Thus we speak about it and we say that it is a mistake to seek to co-exist with this problem being satisfied at limiting the damage, as though it were an incurable illness. It isn't. The remedies exist. Only the will to cure it is missing. At a political level the will prevails to have weak newspapers and journalists, afraid and easily blackmailed. Fear of a full and effective freedom of information prevails.
It is paradoxical that this can happen even in a free country like Italy in the heart of Europe. It is a neglected illness which weakens democracy.
It is strange that progress cannot be made. It is a major paradox which deserves the attention of all of us.
Daphne should not have died
We, today, will talk of individual episodes but the very least we can do is to say what we think of the assassination of the journalist, Daphne Caruana Galizia which took place on the 16th October in Malta. For us it is though it happened here, in Naples, in Palermo.  This murder alone tells us just how serious, current and underestimated the problem is regarding the protection of journalists even in European Union countries.
Daphne should not have died! For at least two years everybody knew that she was subject to intimidations and threats. Even Ossigeno was involved, eight months ago, underlining the alarm of the European Federation of Journalist (EFJ) regarding complaints she had received from members of the government.  That concern had been published on the Platform of the Council of Europe. It could not have had greater visibility. The Maltese government had replied by minimising it.
The representative of OSCE had replied reminding the Maltese government of the obligation to respect the journalist and to protect her.  That didn't happen and I believe that the government of La Valletta will have to justify itself in an international venue.
President Antonio Tajani did well to open the session of the European Parliament by speaking of this tragedy, authorising the parliamentarians to discuss it as they are doing today whilst we are meeting.
I believe that here in Italy Daphne would have been better protected as she deserved. Our country has many defects, various deficiencies about which we will speak later. Between 1960 and 1993 Italy was unable to avoid the assassination of 11 journalists. But in the last 20 years it has shown a capacity of preventing the assassination of other journalists and to adequately protect those exposed to serious risks. I think the 20 journalists who live under protection can say that also, and even better than I, those of them who are here with us.
Many times it has been investigators themselves who having uncovered plans to kill a journalist, informed the journalist and provided the journalist with adequate protection. It is right to acknowledge that  without nevertheless hiding other flaws of our system, without hiding that for the intimidations and threats which are not considered imminent and maximum seriousness, it leaves something to be desired.
The missing pieces
Today we will not talk about individual attacks but of the problem which they, taken together, represent, of the systemic aspects of the problem, of the laws which exist but which are not applied, of unjust legislation which is not modified, of legislation which is missing and doesn't get approved.
I don't know if today we will have the time to enlarge upon all these aspects and so I invite everybody to consult the website of Ossigeno per l'Informazione where they are amply dealt with. Inter alia, Ossigeno has presented its analyses and its proposals two years ago to the Parliamentary Antimafia Commission and to Parliament.
Let us start with impunity which derives from the inadequacy of the legislative framework
The first question concerns the legal status of the journalist: a law should recognise the essential prerogatives of those who exercise this profession as happens for those who exercise other equally delicate professions which necessitate behaviour which exposes them to easy retaliations. I am thinking, for example, of lawyers, magistrates, of the police. Without the laws to protect them they would be exposed at least as much as journalists if not more to a hail of intimidations, threats and lawsuits for compensation which they would have to face with their own efforts and at their own expense.
It is absurd that due to the absence of an explicit recognition of their rights, a journalist who has published true news of public interest is forced to undergo a long and costly trial to establish after several years that he – harming the reputation of a public figure in order to disseminate information of public interest – has exercised a right which was clear right from the beginning.
In this way a weapon of economic blackmail is handed to whoever wants to block, for his own particular interests, certain news of public interest.
The risk of having to bear his own substantial legal costs to challenge complaints and unjust litigation in relation to published articles greatly limits the right to news, feeds self-censorship and constrains especially freelance journalists.
According to our estimates, the legal costs for litigation and complaints amount to 54 million euro annually.
Regarding these costs, we believe that it is necessary to define more precisely, with appropriate protocol and by law, the shared responsibility for the articles which they publish.
Moreover it is necessary to create an appropriate guarantee fund able to act in the case of the liquidation of publishing companies, something which has happened several times recently.
Let us turn to the confidentiality of sources. It is inexplicable that the confidentiality of sources is very weak and circumventable; that it is possible to incriminate a journalist if
he refuses to reveal his trusted sources to a judge, when instead for doctors, lawyers, priests and others the confidentiality of sources is inviolable.
Then there is the intimidatory and chilling effect which the criminal nature of defamation in print has on news gathering. The major international organisations ask, therefore, for the decriminalisation which up until now, however, has been excluded by all the legislative proposals examined. Defined as impossible it has been excluded.
The same has been said and in a more categorical way for the decriminalisation of the offence of insult. Then in January 2016, fortunately, the lawmakers decriminalised this offence.
Then there is the barbarity of the custodial sentence for those found guilt of defamation in print (155 sentences each year, totalling over 100 years of prison). The prospect of being sentenced to prison for defamation through an error committed whilst doing his job has  on all journalists a chilling effect much greater than that due to the criminal nature of the violation. And the sentencing of 155 journalist each year – as happens in Italy – has a chilling effect a thousand times greater. Journalists and editors know that very well. And readers bear the consequences on the quality and the completeness of the information.
We hope, therefore, that in Parliament, a far-sighted, courageous majority is formed which finally eliminates this punishment with the maximum simplicity without increasing the size of fines so as to rectify in another way the intimidatory and chilling effect of prison.
According to Ministry of Justice data there are each year around 5000 disputes and unfounded vexatious litigation begun instrumentally to have an intimidating effect.
It is a real scandal since they make justice work in reverse. They have  to stop. And it can be done in various ways if there is the will. New deterrents can be introduced but above all the existing norms can be applied more systematically which would already act to discourage those who resort to these means.
It would be enough to attribute more systematically, the payment of legal costs of the defendant who wins his case and the payment in his favour of an equitably determined amount and in the cases of patently unfounded accusations, the slander is settled out of court.
More generally, to reduce impunity we think that it is necessary to punish with a new specific offence whoever obstructs the right of free speech, of expression and press freedom envisaged by article 21of the Constitution and the right to inform and be informed envisaged by article 10 of the European Human Rights Convention. And that all the other offences committed towards this end (aggression, threats, damage, etc.) are punished specifically with a heavier punishment.
Many attacks conducted on a legal level could be rejected by judges applying the jurisprudence of the European Court of Human Rights which in its judgements recognised very widely the prerogatives and the rights of journalists and of whomever exercises the right of information, of opinion, of criticism and of scientific research.
The omitted application of this European jurisprudence is unjustifiable.  This omission is widespread. It is a major problem to which we draw the attention of the constitutional bodies.
A large part of vexatious litigation for defamation could be avoided through creating extra-judicial bodies of self-regulation such as the Press Council which in many countries admirably perform this role resolving, with expenses for the parties, many conflicts between the media and readers. We must look open-mindedly at positive examples from other countries.
Finally there is the problem of knowing promptly what is happening, of monitoring the attacks and presenting those unjustifiable attacks comprehensively in front of the authorities.
In Italy, for almost ten years, Ossigeno carries out, in the public interest, the monitoring of the attacks. It does it using professionals working voluntarily and the modest but essential resources provided for this purpose by the Ordine dei Giornalisti and by the FNSI.
This pilot experience has produced good results, has enlightened in Italy and in Europe, has helped the institutions to comprehend the nature and the vast scale of the problem. Amongst other things, it inspired the recent recommendations with which the Council of Europe has asked each country's government, including Italy's to establish independent public monitoring agencies linked to civil society to conduct more adequately this demanding and essential activity.
On this point we strongly request the attention and the determination of the Government and of Parliament.
Meanwhile Ossigeno will continue to conduct its monitoring as a substitute for the public institutions. It asks, however, that there is immediately created an adequate means of communication to represent at a public level the most serious alarms regarding the violations of the right of information and expression so as to bring them to the attention of all the relevant institutions in order that they can assess the opportunity to intervene.
There are attacks which concern the competence of two, five, ten different institutions.  As of today, to highlight them to everybody, two, five or ten notifications are required and it is necessary each time to identify the correct recipients.
That requires an unsustainable effort and many useful notifications are lost.
To avoid these problems, Ossigeno proposes the creation of a HOTSPOT, a public platform which gathers, filters and diffuses timely verified information of the violations which occur in Italy as is done at an international level by the "Piattaforma per la protezione del giornalismo e la sicurezza dei giornalisti" of the Council of Europe (see https://www.coe.int/en/web/media-freedom/home)  in collaboration with several associations which defend press freedom and with international trade unions of journalists.
The creation of this Hotspot would mark a major step forward in the struggle against impunity.
ASP

I contenuti di questo sito, tranne ove espressamente indicato, sono distribuiti con Licenza
Creative Commons Attribuzione 3.0
/