Ghent. Why we go around to speak about our monitoring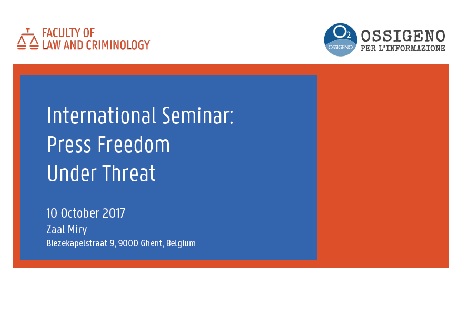 The opening speech of Alberto Spampinato at the workshop "Attacks against journalists and violent censorship" held  at the University of Ghent on 10 October 2017
In the opinion of Ossigeno, there is a lacking in the training and educational facilities of students about their right to exercise the freedom of expression and the press. This is a real gap. It damages not only who is not able to defend himself, but all efforts made to defend the general right to inform and be informed. This lack means that in this field we do not have well skilled observers neither defenders to apply in a monitoring, as since the primary requirement of an observer of press freedom violation is the ability to recognize violations.
This lack of knowing is wide also among the media operators themselves and even among college students on communication.
This is why, with the support of the European Commission and the DG Connect for Communication, and in cooperation with the European Centre for Press and Media Freedom in Leipzig, Ossigeno per l'Informazione NGO proposes training seminars in this matter to students of the European University. We have already made successful this kind of seminars in Roma and Madrid. We will soon held another in Barcelona.
I'm very grateful to the University of Ghent, the Faculty of Law and Criminology, and to professor Eva Lievens that agreed with our proposal to promote this seminar. I hope this can be the first peace of friendly and a more structured cooperation. A very special thanks is due to Ph.D. Sarah Vantorre for her competence, commitment and passion that made possible organizing this meeting
ABOUT MYSELF – I'm a veteran Italian journalists and the founder and president of the NGO Ossigeno per l'Informazione, based in Rome. I myself am a witness of the way a student can be absolute unaware about issues like these. Many years ago, in Sicily, when I was a student of 22, my brother Giovanni was killed in a totally unexpected and unpredictable way. He was a journalists of 25. It was not possible to get true justice. The killer served 8 years in a mental institution and the contract murders were never discovered. That tragedy changed my life. It was like a storm. It forced me to update all my beliefs also about what is the freedom of the press, about what the honest duty of a journalist should be, about why readers of his articles and fellows do not defend him if he is violently attacked for writing them, et cetera. Nobody was able to give me a convincing explanation. I became a journalists to understand from inside how and why things inexplicable like this can happen. And after serving more then 30 years as reporter for important newspapers and major press agencies I founded an observatory to take that research more ahead with the association of other researchers like me.
This tragedy has shown me the journalistic profession in another light, a dramatic one. In I've never stopped thinking about the many risks and serious retaliation that journalists suffer while they are doing their job, the violence that hinders the search for truth and the publication of news on people with power, influence, or criminal power. After 30 years from the death of my brother I founded "Ossigeno" as an independent observatory on the most serious and violent attacks against journalists and blogger and on violations of the right to be informed.
ABOUT OSSIGENO AND ITS MONITORING – Ossigeno introduced a new scientific method of observation on this issue and experienced it for ten year in Italy with success. It's a new one method, different from all others because aims to uncover episodes of violation saying to the public names of victims and aggressors, and verifying accurately each episode before making it public. Another particularity of the Ossigeno' Method of monitoring, also known as "Ossigeno Censorship Detector" is the way it ranks violations: not about their apparent seriousness but about the crime or illicit committed to pursue that violation. This way institutions can use the monitoring report of Ossigeno as truly and objective led in Italy and lever on it to ask involved authorities for explanations and measures to be acted.
This way Ossigeno made known names of 3380 journalists and blogger attacked in Italy in the last ten years. When Ossigeno started its monitoring Italy was like the Belgium now: nobody believed that bad things like that could happen in their territory and many people denied also the few known episodes saying they were not true.
This experience say that monitoring is necessary, is useful and is possible even if authorities do not provide for money and facility. This is why we go around to speak about our method and offer our expertise to people and institutions that try to apply in their territory the monitoring of violations of the right to inform and to be informed.
ASP

I contenuti di questo sito, tranne ove espressamente indicato, sono distribuiti con Licenza
Creative Commons Attribuzione 3.0