Journalists threatened and the professional example of reporters killed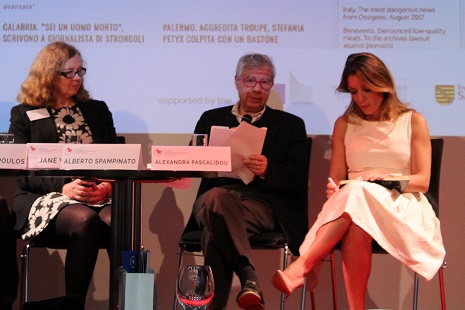 Ossigeno in Leipzig at the ECPMF conference. "Security for journalists is the first priority," said OSCE Representative Harlem Désir
"The security of journalists is my first concern. The attacks on them are about the whole of society, that if it wants to be truly a democratic society, it must protect them because it needs them ": OSCE Representative for Freedom of the Media Harlem Désir on 5 October 2017 in Leipzig (Germany) in the video message sent to the "Defending Journalists under Threat" conference, organized by the European Center for Press and Media Freedom (ECPMF), of which Ossigeno is one of the founding members.
In response to questions from the public on Désir's activity in office since July, Frane Maroevic, director of the Office of the Representative, replied, which – he said – deals with about 200 cases pertaining to problems and limitations of freedom of expression every year.
One of the round-table conferences was dedicated to testimonies of attacks on journalists: along with reporters throughout Europe, Ossigeno per l'Informazione, in the person of Alberto Spampinato, told the story of his brother Giovanni, who was killed in 1972 when he was only 25 years old, after the publication on the daily newspaper of the Sicilian island L'Ora, of news which other journalists had chosen not to report. "Before him, two other journalists of the daily L'Ora [Cosimo Cristina and Mauro De Mauro] had been killed. That newspaper no longer exists since 25 years ago, but its example remains in the history of investigative journalism", Spampinato recalled.
MF

I contenuti di questo sito, tranne ove espressamente indicato, sono distribuiti con Licenza
Creative Commons Attribuzione 3.0
/