Ossigeno for students. Why workshops around Europe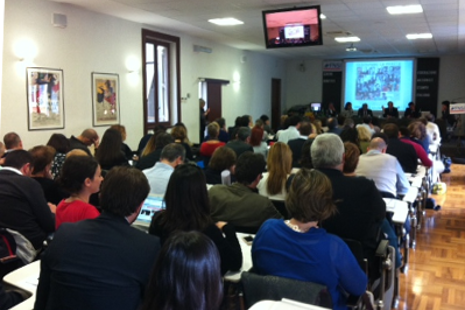 A tool for attendant of seminars organised by the Observatory about its methodology
OSSIGENO PER L'INFORMAZIONE (Ossigeno) is an Italian non-profit organisation operating as a centre for information and journalism on the news overshadowed by violence in Italy.
Formally registered as an association in 2011, it was established in 2008 by FNSI, (National Federation of the Italian Press, the single journalists' union) and the Ordine Nazionale dei Giornalisti (the Italian Order of Journalists), together with the non-profit organisations in defence of press freedom Libera Informazione, Unione Nazionale Cronisti Italiani and Articolo 21, Ossigeno aims to document all Italian cases of violent or abusive limitations on freedom of expression against journalists, writers, intellectuals, politicians, trade unionists, public officials and other citizens, paying special attention to what goes on, in the information field, in the areas where the influence of criminal organisations is strong and deeply rooted.
Ossigeno's president and director Mr Alberto Spampinato is a journalist. He decided to launch this centre, moving on from the memory of his elder brother Giovanni, a journalist killed in Sicily in 1972 by mafia.
The observatory performs continuous monitoring of threatened journalists, telling their stories through the online newspaper www.ossigenoinformazione.it and in periodical reports, published in different languages. Ossigeno also promotes public initiatives in order to enhance the visibility of the threats, to strengthen solidarity with threatened journalists and to spread awareness among the public about the right to be fully informed, in an impartial way.
The Ossigeno's experience in the training of journalists and students
In addition to monitoring of intimidation and initiatives to defend press freedom, Ossigeno per l'Informazione has been developing for a long time an intense training activity with courses organised in collaboration with Ordine dei Giornalisti, journalists, trade unions, universities and cultural institutions. These trainings are aimed at journalists, students, educators and social communicators
They have been held all over Italy and lately have been conducted successfully in Spain, connecting Italian and Spanish teachers, journalists and experts, with testimonials of serious media freedom violations. From these prototypes, Ossigeno has developed a project that involves repeating such training in other Western European countries in collaboration with local universities and organisations representing journalists.
In Italy a big opportunity is given because training courses for journalists are recognized by the Ordine dei Giornalisti, that give partecipants the credits needed every year by each registered journalist to fulfil the requirements of their professional development imposed by law.
In recent years Ossigeno has organized all over Italy more than 40 courses on how a journalist, a reporter, a blogger can better defend himself/ herself from lawsuits presented only to intimidate and prevent the publishing of unwelcome news. The courses highlight the threats and retaliations against journalists and about the political, economic and criminal powers used to justify undue pressures and pretentious legal actions. Special attention is given to intimidation and attacksfaced by local freelance reporters. http://www.coe.int/en/web/media-freedom/the-platform
Over four thousand participants from 2014
In 2014, 2015 and 2016 substantial number of journalists, over 5000 in total, participated in Ossigeno's training activities. Between May 2015 and November 2015 the course "Corrections and libel. A positive practice to fulfil rights and duties" has been repeated six times, with the participation of 700 journalists. To them the Order of Journalists awarded 400 course credits. Between May 2014 and April (2015 ) the course has been repeated 23 times in 8 different Italian Regions with the participation of 2600 journalists, to whom the Order of Journalists awarded about 20000 course credits. In December 2015 Ossigeno held two more very demanding courses, one on defamation in Terni (Umbria) and the other in Roma.
The latter entitled "Hidden censorship. How to identify, recognize and fight", promoted in collaboration with the Ministry of Culture and Roma Tre University, was followed by 900 people (656 registered journalists, 51 registered students and others non registered) and was held in a prestigious venue at the National Library. It represents an innovation in Ossigeno's educational offer and it is the forerunner of a new training activity that the Observatory intends to carry out throughout Europe in 2016. The first positive test was on April 14, 2016 in Madrid, at the campus of the University Rey Juan Carlos with a mission to spread among journalists and students an understanding of new underhand forms of censorship and to train observers of these violations of press freedom. Another one was held in Madrid in March 2017 at University Complutense.
The Italian basic course is structured into four teaching modules each of four hours in two days and it was held by Ossigeno and the Italian National Library, the Bachelor's degree school in the Information Science Department of the University Roma Tor Vergata, Ordine dei Giornalisti and the Associazione Stampa Romana. Ossigeno's training is now involving universities of other cities and other countries.

I contenuti di questo sito, tranne ove espressamente indicato, sono distribuiti con Licenza
Creative Commons Attribuzione 3.0