"Die Zeit": about why now Petra Reski talks about mafia only in her novels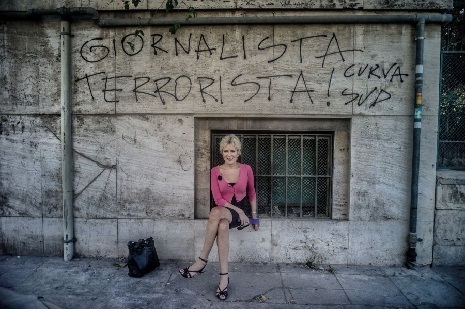 Christof Siemes explains how a journalist has decided to face the restrictions that the German law imposes on reporting
by Christof Siemes, Die Zeit – "I am not afraid of mafia, but of the cowardice of honest people", Petra Reski writes in "Bei aller Liebe" ("Despite Love") her latest novel about the mafia's intrigues in Italy and Germany. These are the words she has a fictional prosecutor say in the book, words that the award-winning author could use to describe herself. She has been dealing with Cosa Nostra & Co. crimes in her essays, newspaper articles (also for Die Zeit) and novels for years. For some time, she was only able to appear in public under police protection. Nonetheless, most of the issues that arise from her outstanding journalistic work now do not come from a sinister vilain but from the legal niceties of the German and international judicial system as well as from a well-known publisher in Berlin.
The final ruling issued by a court in Hamburg two weeks ago came after many years of legal proceedings during Petra Reski was involved in. This time around she did bring legal action against Jakob Augstein, heir to Der Spiegel, editor and editor-in-chief of the weekly newspaper "Der Freitag". In March 2016, "Der Freitag" published an article written by Petra Reski: "Bosses like German" which she mentioned a successful legal action taken by an Italian businessman from Erfurt, Germany against a documentary about the mafia broadcast by MDR, a German state-owned television network. This businessman was of the opinion that he had been portrayed as a potential member of the mafia. In her piece, Petra Reski included the name of the restaurant owner, convinced that it was judicially admissible as court reporting. The businessman, however, initially sued Petra Reski for violation of his personality rights and later sued Der Freitag. The newspaper took down the article from its web page and – contrary to the normal practice in the media world – left the author on her own to deal with the legal charges filed against her.
Augstein, well known for his strong attitude when writing in his online articles on Der Spiegel, not only refused to provide legal protection and support the freelance investigative journalist Reski in the legal proceedings, but in several tweets and public statements even called into question the seriousness of her work. Reski proceeded to sue Augstein for five of these statements of which Augstein is now prohibited to repeat three. Yet the damage remains: on the one hand, Petra Reski must pay most of her legal expenses and, on the other hand, Augustein can still continue to say that "editors are not a legal protection insurance for insufficient investigation". Even though Petra Reski will appeal against the sentence, will journalists still have the courage to write articles about the mafia, when even renowned publishers are unwilling to risk o supporting them when there is headwind and distance themselves from the journalists?
Another dilemma has occurred on account of a ruling issued by the European Court of Human Rights in Strasbourg. This time the case had to do with a non-fiction book by Petra Reski published in 2008: "Honoured Society". Here she was also sued by an Italian businessman who considered the description of himself " as a "suspected member of 'Ndrangheta", the Calabrese mafia to be wrong.
A journalist is allowed to write about this kind of suspicion only if this can be founded on "a basic and minimal existence of evidence". Petra Reski offered this kind of evidence by quoting from a number of internal reports of the Federal Criminal Police Office BKA. During all stages of the judicial proceedings, she presented further documents as well as solemn declarations of Italian investigators. The second highest prosecutor of the Italian antimafia public prosecutor's office offered Petra Reski to be a witness in the trial in a German court about the plaintiffs involvements.
And yet all this material was not accepted by the German court as what is referred to as a "privileged source". A complaint that was lodged against the decision was rejected by the Constitutional Federal Court. Reski's publisher Droemer Knaur (who contrarily to Augstein, has been supporting their author in this proceeding for years) decided to blacken the alleged parts of the book, paid the businessman 10,000 euros for damages and in the final instance applied to the European Court of Human Rights.
The alleged facts are not under scrutiny anymore. Reski's publisher is asking the Court to rule on one even more important and general issue: Did Germany violate freedom of expression with their judgements?
Six out of seven judges do not think this is the case. Judges in Strasbourg, as their German colleagues, also recognise official documents of the Public Prosecution Department accessible to the public or final judgements as sources for reporting. This implies that those documents about the relationships of the BKA [Federal Criminal Police Office] and other internal documents are not sufficient to justify writing news stories about suspicious links with the mafia by mentioning the names of individuals involved in the case.
The reasoning behind this conclusion is justifiable: protecting someone's reputation is a precious value. A suspicion circulates easily, even an anonymous complaint may cause a formal inquiry by investigative authorities even if it is not good enough to be considered as a source. If, anyone wants to use this internal documentation nevertheless – and how could investigative journalists carry out their work without it? – the concerned party has the right to be confronted with the claims before their name is published, and must express their opinion. This principle has been stated repeatedly by European judges.
As for reporting about the mafia, this kind of jurisdiction seems quite far from reality. Is a freelance journalist supposed to request a predictable dementi without the support of the editors and risk being tracked down and threatened, something that Petra Reski has experienced in the past?
At any rate, one judge of the European Court of Human Rights did not support this absolute primacy of protecting personality more than the freedom of expression. This is probably due to the fact that Nona Tsotoria is from Georgia and might have had her own kind of experience with mafia structures. In her dissenting opinion she states that internal relationships are official sources and she deeply regrets "this troubling departure from the prevailing understanding of the case-law of this Court."
In Italy, where Petra Reski has been living for decades, the legal situation is different because of the experience Italy has in fighting the mafia in so many different ways. For instance, being a member of the mafia is in itself a crime. Moreover, to prove a crime of money laundering the burden of proof has been switched: those who invest large amounts of cash must be able to explain as sources for reporting origin. Conversely, in Germany, investigative authorities must prove that money potentially originates from illegal activities. As for reporting, in the land of Cosa Nostra it is lawful to quote, including names and all available sources. This also includes wiretap transcripts that would never be allowed in Germany at this level but without the fight against mafia would be impossible. (Of course this practice also has a downside; persons who have nothing to do with the case might be mentioned in investigation files) Of course, in Italy suspected members of the mafia also start legal actions based on articles about them. However, Petra Reski cannot think of a single case where a journalist using internal sources lost the case before a court.
To be able to afford other legal disputes that involved Augstein and the businessman from Erfurt, Petra Reski started a crowdfunding. Thanks to the help of 262 supporters, 20.000 dollars were collected in a short time period of time. However, this amount will not be sufficient if the Italian entrepreneur succeeds with his last claim for damages: 25.000 euros, enough money to completely silence a freelance journalist and many other colleagues. The trial will take place in February 2018.
With these legal proceedings going on, Petra Reski has drawn a number of conclusions that are both troubling as well as comforting: She has migrated to the domain of fiction, today she only writes about the mafia in her novels, which is a pity, because it means that the freedom of expression and the freedom of the press have been defeated, because her tenacity will be missed in this journalistic field. But on the other hand it's great because she has written three fascinating novels about Serena Vitale, a prosecutor. You'll read more truth about the mafia in these books than could have been written in a newspaper. So far, nobody has brought legal action against her novels.
The original article as appeared on n. 47/2017 on Die Zeit

I contenuti di questo sito, tranne ove espressamente indicato, sono distribuiti con Licenza
Creative Commons Attribuzione 3.0
/